Artist Submissions
We are always pleased to view work by talented artists and photographers inspired by the world of Rock and Roll.
Please email 5 or 6 images of recent work in a jpeg format to art@brockstreetgallery.co.uk .
Include in your email:
- Titles, dimensions and medium.
- Artist biography with details of any previous or current exhibitions.
- Details of significant sales and pricing.
Be patient! We endeavour to give all submissions a considered appraisal and will respond to you in due course.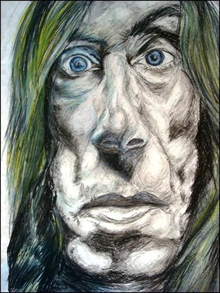 Iggy Pop
by Niall Taggart